Berker TS / TS Crystal / TS Crystal Ball
Glamorous Design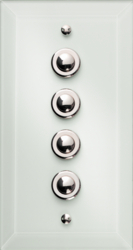 Extravagance not only becomes manifest in a grand gesture, but also in perfect detail.
The Berker TS Crystal Ball is a particularly attractive way of switching light in a glamorous way. Switches made with SWAROVSKI ELEMENTS not only control the light, but also bundle it in the brilliant manner, typical for SWAROVSKI ELEMENTS.
• A glamorous eye-catcher in any exclusive environment
• Button made of multifaceted SWAROVSKI ELEMENT with capacitive sensor surface for inclusion in bus systems using push-button interfaces
• Requires only a gentle touch to switch
Berker TS / TS Crystal / TS Crystal Ball Push Button Colours & Materials