Berker KNX - Touch Sensor R.1 / R.3
Superlative statement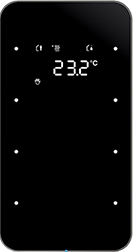 Just right for the switch programmes in the R.-Design is the Berker Touch Sensor –
in a soft (R.1) and cornered (R.3) contour as well as in the glass surfaces black and
polar white.
The KNX-Touch Sensor has the same assembly height as the switches in the R.-
Design. With its integrated bus coupling unit, a variety of building functions can be
read and controlled through it.
• A gentle touch is all it takes to activate the desired function.
• It controls KNX functions such as lighting, blinds, heating and air conditioning. LEDs indicate operating readiness and switch states.
• With 4 international design awards, Berker KNX Touch Sensor R.1/ R.3 represents a truly German technology and superlative global design.
• With its feather touch experience, one would love to have it on the wall as a signature of modern lifestyle & smart control.
KNX - Touch Sensor R.1 Colours & Variations
KNX - Touch Sensor R.3 Colours & Variations